Integrating benefits applications is essential to strengthening our social safety net. But too often big visions can obscure the intended outcome: getting people the help they need more efficiently. A different option: Focusing on small improvements, which can make an outsized impact in a matter of months.  
When you go to a hospital today your chart follows you from department to department. In many cases that chart also contains test results, records, and data from disparate health providers thanks to the Obama administration's Health Information Technology for Economic and Clinical Health Act of 2009. A single, integrated experience helps doctors make critical care decisions since everything is available in one place. As more of the world moves online, this type of integration is happening outside of the medical field, too, including the Common Applications for college, the Free Application for Federal Student Aid, and universal housing application. In a time of dire need it would make sense for local, state, and federal governments to provide one-stop access for those in need of critical public benefits such as healthcare, food assistance, and housing. 
Instead, those applying for these services must navigate multiple programs and applications to find and apply for help. If someone loses their job, they need to separately apply for unemployment insurance and SNAP to put food on the table for their family. At the same time, since they'll need health insurance they must apply for emergency Medicaid. If it takes them time to find a job, they'll need to apply for Temporary Assistance for Needy Families and housing aid. With separate applications for each one of these programs — all with multiple steps and in-person interviews — the tasks are overwhelming, and even more so since eligibility determination can take months or even years.
Most everyone who's been in this situation or who has administered a safety net service knows the process would be significantly easier if people could get what they need in just one place. But integrated benefits projects, taken on by well-meaning public interest technologists, keep stalling out. I've seen this firsthand working with one state that — in a quest to create a single application process — started off strong but got overwhelmed by the enormity of the scope and procurement nightmare. Even those states that make good progress are often stymied. For instance, the state that tried to integrate data for more than 250 programs, working with the Federal Data Services Hub. That state got the project off the ground, but a mountain of approvals and coordination among multiple agencies blocked its progress. 
One common obstacle is that these projects are often scoped as decade-long data integration plans with huge startup costs and the need to navigate myriad political and regulatory complexities. But there are easier—and quicker—ways to start helping people access critical benefits more efficiently, starting with a priorities shift.  
Focus on outcomes
Public benefit program applicants don't care if their data is integrated. They care about getting to the doctor and buying the food they'll need that month. Focus on the end result, and the possibilities for integrating benefits expands beyond the technical work of combining data sets and eligibility systems. You'll create opportunities to improve the touchpoints people pass through.   
Consider going with the path of least resistance, but be creative
When I was working with the Center for Economic Opportunity at NYC Mayor's Office, we tried to combine the eligibility experience for 11 different agencies. The biggest challenge was that we couldn't officially tell the applicant that they were eligible for other safety net programs. Since agencies are responsible for where their money goes and the integrity of their program, only they can determine official eligibility. Applicants must go through the regulatory process of applying for each program. Unless all benefit programs are housed within a single agency, it's nearly impossible to create one product that can do an eligibility determination for disparate programs. This means that the simplest way to integrate programs is to make it easier for a current applicant to find related benefits and allow each agency to make their own determination. 
Even between programs with a lot of overlap between eligible beneficiaries, such as Medicaid and the Supplemental Nutrition Assistance Program (SNAP), there's a huge opportunity for strengthening simple referral processes. For programs with strong outreach practices such as  the Special Supplemental Nutrition Program for Women, Infants, and Children (WIC), the opportunity to facilitate successful referrals into the program is even bigger because if we can get permission to share contact information, a WIC program can reach out out to the applicant directly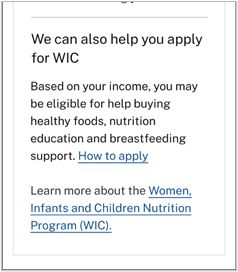 Referrals, even simple ones, allow two programs to develop connective tissue. As this connection strengthens, and the programs start working more closely together, they may realize they need to resolve conflicting business processes or even eventually, build a fully-integrated technology system. But, because they started working together in service of a single outcome—helping people get the benefits they need more efficiently—the new work will be driven by that outcome as well. Rather than large scale data matching projects, this may actually be the best case scenario for an integrated benefits project in 2021. 
When building something new, start small
Of course, referrals are just one example of how small changes can build momentum toward bigger outcomes when integrating benefits applications, which in turn can drive long-term investment. You can also make inroads by targeting one part of a process. For example, while working with the state of Vermont, our team at Nava designed, tested, and built a simple web application with an uploader tool—in just 10 weeks. The uploader tool lets applicants submit required documents from their phones, instead of in-person or by mail. The documents are automatically emailed to caseworkers who then process the application as they normally would. (For more on this story, read Power To The Public, which details this project.)
Originally, we tested the uploader tool with a single, regional office. We had 50 Vermonters use the uploader and sat down with a supervisor at the regional office, Jimmy Crisante, to discuss preliminary results. We compared the new uploader process for submitting documents with the old process, which required applicants to deliver paperwork in person or by postal mail. We found that with the uploader tool, 55 percent of Vermonters were able to submit documents within one day of the state requesting them, compared to just 11 percent before. And 42 percent had their documents processed the same day they uploaded them.
This small investment in a single regional office demonstrated the value of an uploader tool to the entire state. It also helped the state prioritize investments in additional technology integrations with the state's system of records, which could be done while applicants continued to take advantage of the new faster, more accessible process. Over one year Nava, along with state partners, scaled the project to every district office across the state. This simple change reduced the time it took for an applicant to get a benefits decision from nine to 4.5 days. 
Make stronger connections and bigger investments over time
You can't rely on light touches and simple interventions when it comes to transforming every key service. At some point, big investments are needed in order to overhaul data management systems or create a better system of record. Without those underlying structures, smaller changes that widen the funnel can easily overload an agency. But those connections, rolled out intentionally and incrementally, can highlight opportunities to improve operations that technology should be supporting anyway. And those small investments and improvements, especially in service of weaving stronger connections between agencies, can provide the proof points needed to secure and sustain long-term investments. 
There has never been a better time for this kind of work. With legislation like The State and Local Digital Service Act, there is momentum behind the idea that government technology can be dramatically improved to serve the public. To take advantage of this moment, start by identifying the connections that will get you up and running while keeping long-term goals in sight. Slowly, together we will develop a cohesive safety net that efficiently and effectively gets people the help they need, when they need it most. With one in eight adults under the age of 65 living in poverty, it's not something we can put off any longer.  
Genevieve Gaudet is the Design Director at Nava Public Benefit Corporation. Prior to Nava, she co-founded the New York City Service Design Studio in the office of Mayor Bill de Blasio. As Deputy Director, she redesigned how the largest city in the nation supports people experiencing poverty. Genevieve holds a Master of Public Health degree from Tulane School of Public Health and Tropical Medicine.